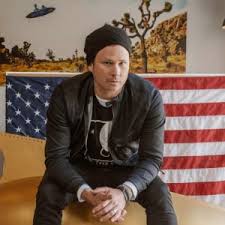 Tom DeLonge, Former Blink-182 Member, Launches "To The Stars Academy of Arts & Science".
Former Blink-182 member Tom DeLonge has launched an appeal for funding for his new 'public benefit corporation', named 'To The Stars Academy of Arts & Science". He describes it as "the first partnership of its kind between the fields of aerospace engineering, science, and cinematic entertainment" which will "explore the outer edges of conventional thinking."
The academy's mission statement says: "We believe there is sufficient credible evidence of Unidentified Aerial Phenomena that proves exotic technologies exist that could revolutionize the human experience."
Writing on Facebook, DeLonge explained: "I have brought together an elite team from CIA, DOD and the FMR Director of Advanced Programs at Lockheed Martin's SkunkWorks.
His statement continued with an explanation of their first project – a vehicle that can travel "instantaneously through space, air and water by engineering the fabric of space-time". He then asked for investors to contribute. So far, 676 investors have contributed more than $320,000 to the 'academy'. Its website lists the academy members as: a former deputy assistant Secretary of Defense for Intelligence; a former senior intelligence officer at the CIA; a former advanced systems director for aeronautical company Skunk Works; a former director of programs to investigate unidentified aerial threats;  a group of 'distinguished physicists'; a geneticist; a molecular biologist; and an 'award-winning storyteller'.
In Instagram updates since the company launched, DeLonge has announced plans for an unscripted reality series about the Academy – including footage of "US Gov declassified videos of UFOs" – and has said another vehicle is being planned. "We are aiming to build a spaceship that turns into a ball of light… and disappears," he wrote early this morning (October 14).
Earlier this year Tom DeLonge won the award for UFO Researcher of the Year.