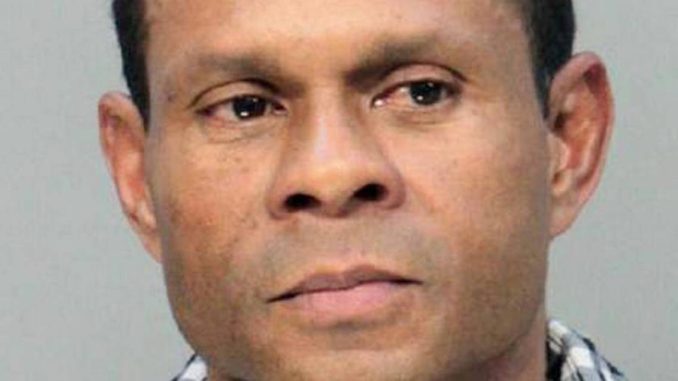 Vicente Solano, a sympathizer of the Islamic State extremist group, expresses his anger at Trump and the U.S. by plotting to bomb a Miami-area shopping mall.
Vicente Solano, a Honduran national who has lived in Miami for more than a decade, changed his Facebook profile name to "Abad Solano" in March after developing deep resentment toward President Donald Trump and his harsh statements about Hispanic immigrants during the 2016 election, a federal prosecutor said Thursday. Solano, who is in the United States illegally and has temporary protected status, expressed an affinity for the terrorist group ISIS and its violent mission against America on his Facebook page, Assistant U.S. Attorney Karen Gilbert said.
At Solano's detention hearing in Miami, Gilbert and an FBI agent described how the defendant acted alone while producing ISIS propaganda videos before plotting to bomb the Dolphin Mall this fall. Solano, 53, was arrested Friday night by agents and charged with attempting to use a weapon of mass destruction to kill shoppers at the food court in the Sweetwater mall.
U.S. Magistrate Judge Chris McAliley ordered that Solano, a penniless painter, be detained before trial, saying he is a danger to the community and poses a flight risk because he faces 30 years to life in prison if convicted of the WMD charge. She highlighted that Solano was arrested before entering the mall with what he believed was an actual bomb with a 40-minute timing device. The bomb, acquired from FBI undercover operatives, was fake.
"You have expressed a very open and extreme hostility to this country," McAliley told Solano, citing FBI undercover recordings of Solano talking with a confidential informant and two other operatives. "There's compelling evidence that you intended to kill many people."
In the sting operation, the informant and two FBI employees interacted with Solano through the fall as he talked about ISIS, bomb diagrams, mall sketches and the WMD plot, according to an affidavit. FBI special agent David Clancy testified that Solano's "plans were his alone." Clancy told assistant federal public defender Alex Arteaga-Gomez that the evidence has shown so far that Solano did not correspond with any representatives of the Islamic State to carry out his alleged mall bombing attempt.