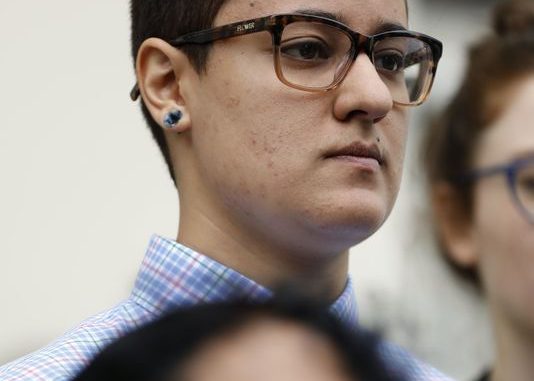 Argentinian immigrant could be deported without a hearing.
Daniela Vargas was detained by Immigration and Customs Enforcement on Wednesday as she left a news conference in downtown Jackson, Miss., her attorney Abby Peterson said. At the news conference, she spoke of her fears of deportation and stressed her will to continue living in America. The Argentinian immigrant detained after speaking out against deportation could be deported without a hearing in two to three weeks, her attorney said.
Vargas' brother and father were detained outside their home by ICE agents on February 15. Vargas hid in the closet. When she was discovered by agents, she was temporarily handcuffed and then released. After her father and brother were detained, Vargas went into hiding. She came out of hiding to speak at the press conference.
ICE agents reportedly told Vargas on Wednesday, "You know who we are, you know what we're here for."
Vargas sits in an ICE detention facility in Louisiana awaiting deportation. Peterson is trying to get a stay issued on the pending deportation.
"We were informed by ICE that Daniela is being processed as a visa waiver overstay and that she will not be given a bond or an Immigration Court hearing before her removal," Peterson said. "However, this is in direct contradiction to the statement released by ICE that Daniela would be given an opportunity to present her case to a federal Immigration Judge."
Thomas Byrd, spokesman for ICE, declined to comment Friday.
Peterson expressed surprise at Vargas' arrest and frustration at her pending deportation.
"This is incredibly frustrating for me," Peterson said. "Before this all unfolded, this is something I would have never imagined either under the Obama administration or the Trump administration. This caught us off guard and has had a lot of people rethinking whether or not the priorities that are being stated publicly really are the priorities."