Smart Watering – Irrigation of the future
Well, if you have missed the sensationalized headline a few weeks back from NASA titled, "RIP California", stating that California only has 1 year of water left, you must have been living under a rock in one of the dry reservoir beds in California.  The truth is that there is a severe drought, but droughts come and go, this is the simple nature of a drought.  If the rainfall was not cyclical, then the area would simply be defined as a desert.
Do not despair however, if you were really hoping for a dooms day scenario for California and the produce industry, there is still a serious water problem in California.  With 90% of the worlds favorite crops coming from California, you still have plenty of room for worry.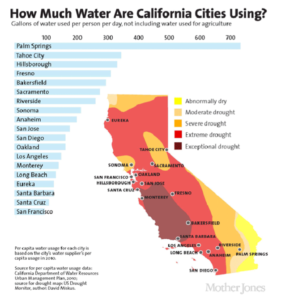 Now, Im all bout preserving mother nature, but I am not one of those folks who refuses to wash my car to prove a point.  I certainly appreciate the gravity of the situation, but really think there is a feasible compromise to water conservation and landscaping. I don't feel like ripping out my lawn and replacing it with rocks or dirt, creating the next dust bowl in my front yard; making my car even more dirty.  Here is a simple compromise. Replace your old analog sprinkler timer with a smart irrigation controller which virtually installs in minutes, set up is a snap and start conserving water. Even if you are a fan of wasting water and are the dude who likes watching his sprinklers fan away in the rain, a smart sprinkler controller is just too much fun to play with.
Enter the Blossom Smart Irrigation Controller.  This little box promises to save up to 30% of irrigation water by simply using realtime weather data from the cloud, no pun intended. A clever application of technology to solve a real world problem.
The Blossom utilizes a cloud solution to access a highly scalable infrastructure of real-time weather data. The device gathers current local weather and accurate forecasts from multiple weather services to generate a perfectly optimized watering plan for your yard.
The system is even accessible from your smart phone or tablet via an app allowing you to manage your irrigation system from anywhere.
Because the reach of WiFi is limited, Blossom uses Powerline technology in addition to WiFi to turn any electrical outlet into an internet connection making range essentially limitless.
I just got my Blossom over the easter holiday and have to say this is definitely getting my vote for coolest gadget of the 2015!
The Blossom is now shipping in the United States and is priced at $199, but you can get your Blossom smart irrigation controller for $149 at MyBlossom.com until April 15th 2015