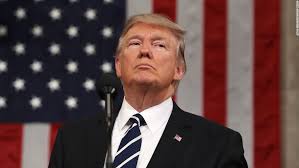 US TRAVEL BAN NOW IN LIMITED EFFECT.
The Supreme Court on Monday lifted key components of an injunction against President Trump's proposed ban on travel from six majority-Muslim nations, reinstating much of the policy.
The court's decision means the justices will now wade into one of the biggest legal controversies of the Trump administration. The court made clear that a limited version of the policy can be enforced for now.
The justices decided to review the broader constitutional issues over executive authority on immigration, with oral arguments to be held in the fall. It will decide the fate of President Trump's revised travel ban, agreeing to hear arguments over immigration cases that were filed in federal courts in Hawaii and Maryland, and allowing parts of the ban that's now been on hold since March to take effect. The case has been centered on the president's move to block new visas for travelers from six majority-Muslim countries for 90 days, and to suspend the U.S. refugee program for 120 days. Challengers to the ban said it would harm people who have legitimate reasons to be in the U.S. — including through family ties, work and education. The Supreme Court has removed the lower courts' injunctions against the ban "with respect to foreign nationals who lack any clear relationship with a person or entity in the United States," narrowing the scope of two injunctions that had put the ban in limbo. With today's Supreme Court order, the travel ban will remain on hold for plaintiffs who challenged the executive order.
"An American individual or entity that has a bona fide relationship with a particular person seeking to enter the country as a refugee can legitimately claim concrete hardship if that person is excluded," the court wrote. "As to these individuals and entities, we do not disturb the injunction. But when it comes to refugees who lack any such connection to the United States, for the reasons we have set out, the balance tips in favor of the Government's compelling need to provide for the Nation's security."
Executive Order 13769, titled Protecting the Nation from Foreign Terrorist Entry into the United States, was an executive order issued by United States. In effect, except to the extent blocked by various courts, from January 27, 2017, until March 16, 2017, when it was superseded by Executive Order 13780. Executive Order 13769 lowered the number of refugees to be admitted into the United States in 2017 to 50,000. It suspended the U.S. Refugee Admissions Program (USRAP) for 120 days, and suspended the entry of Syrian refugees indefinitely. Some cabinet secretaries were directed to suspend entry of those whose countries do not meet adjudication standards under U.S. immigration law for 90 days, and included exceptions on a case-by-case basis. Homeland Security lists these countries as Iran, Iraq, Libya, Somalia, Sudan, Syria, and Yemen.